SAVE THE DATE - May 11, 2021 at 6PM - Foothill Blvd in Lake View Terrace - Traffic Safety Improvement Meeting
Posted on 04/27/2021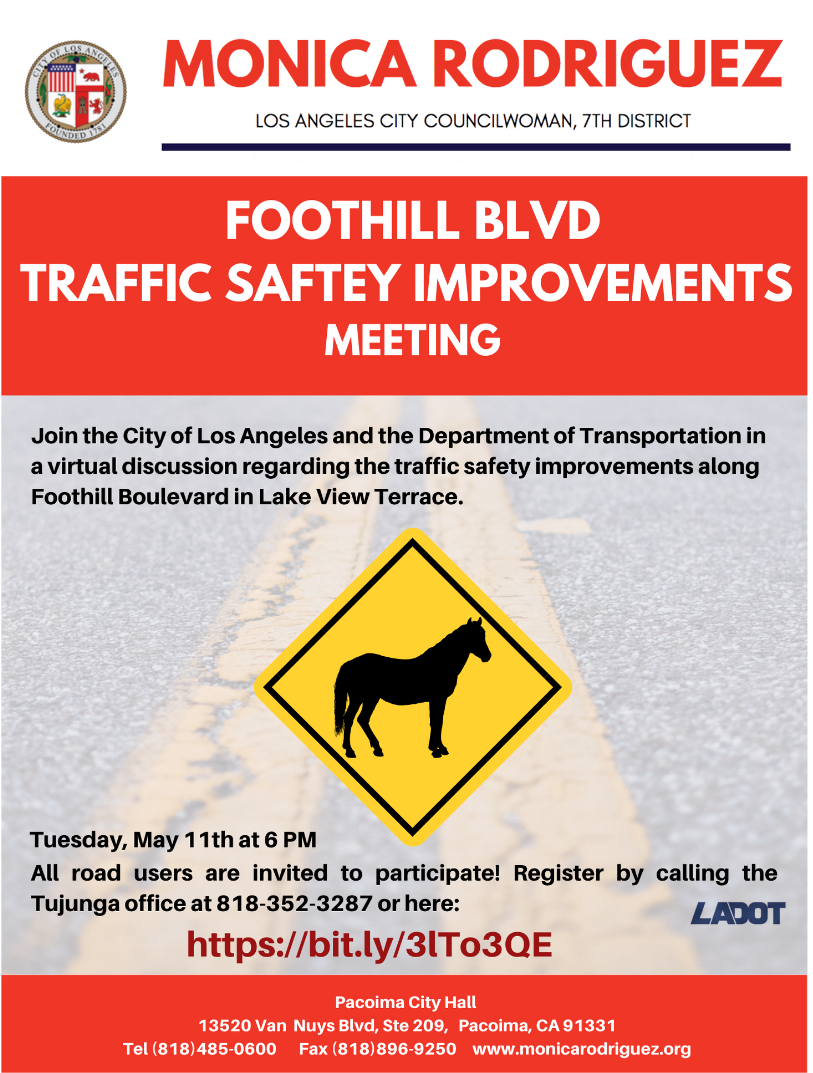 In late October 2019, there was a tragic collision that killed two horses and severely injured their riders as they rode along Foothill Blvd. - one of the City's official equestrian trails - through Lake View Terrace back to their stable. That November, the Councilwoman put through a motion directing various City departments to both improve existing safety conditions along Foothill Blvd. between Osborne and Wentworth, and to look forward to creating a future, contiguous bridle path so that riders can move safely while off of the street itself. For your reference, here is a link to that motion, which was then approved by the City Council in February:
https://cityclerk.lacity.org/lacityclerkconnect/index.cfm...
Our office worked closely last year with the Bureau of Street Lighting to upgrade all of the existing street lights to higher-intensity LED lights, in order to improve the visibility of equestrians, cyclists, pedestrians, and other users of the road. The Bureau of Street Lighting also worked with the LADWP to upgrade eighteen cobra-head light fixtures on DWP poles along this corridor as well.


We have also been working closely with the LA Department of Transportation to review conditions along this section of road - Foothill Blvd, between Osborne and Wentworth - and to design traffic safety improvements. In February 2020, we held a well-attended community meeting to get input from community members on how to best increase safety in this area, and now the draft of the proposed plan has been completed, so we would like to move forward with sharing this plan out with the community again.


In March of this year, we were very saddened to learn that there was another crash on Foothill Blvd near the Wheatland intersection, a head-on collision during the rains, which resulted in two fatalities and three severe injuries. We are looking forward to implementing changes that will help to increase safety along this road and to reduce speeds, and hope that you can participate in this process to make Foothill Blvd. safer in this area for all users.